Meeting Lt Governor Miller: A Champion for Digital Equity in Maryland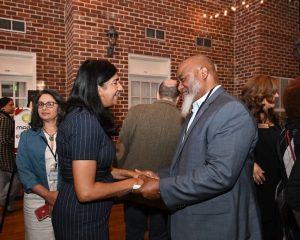 On the sunny brisk morning of Maryland Digital Equity Coalition Day, I had the pleasure of meeting Lt Governor Miller. The energy at the event was palpable, with a diverse crowd of people from various backgrounds coming together to celebrate digital equity in Maryland.

As I approached Lt Governor Miller, I was struck by her warmth and approachability. She had a smile on her face that lit up the room, and it was evident that she was genuinely happy to be there. As we spoke, I couldn't help but feel that she was a person who truly cared about the people of Maryland and their well-being.

The highlight of our conversation was when she shared her love and full support for the Focus on Communities United for Success IT workforce development training program. It was clear that Lt Governor Miller was passionate about providing opportunities for people in Maryland to develop the skills they need to succeed in the digital age. She emphasized the importance of digital equity and the need to ensure that all Maryland residents have access to technology and the resources they need to thrive.

It was inspiring to see such a high-ranking government official actively engaged in the community and committed to making a difference. Lt Governor Miller's enthusiasm for the Focus on Communities United for Success IT workforce development training program was contagious, and it was clear that she believed in the power of the program to change lives.

Overall, meeting Lt Governor Miller at the inaugural Maryland Digital Equity Coalition Day was an unforgettable experience. She is a wonderful and genuine person, and her support for digital equity in Maryland is a testament to her dedication to public service. I left the event feeling inspired and motivated to continue working towards a more equitable future for all.
Thank you, Lt. Governor Miller, you are an amazing person!